e

xplore! LITE Online
Explore. Learn. Innovate. Transform. Enterprise @ Qcircle.
An online program for entrepreneurial innovators.
---
International Entrepreneurial Innovation
Enter Qcircle's eLITE environment. Learn to Innovate. Be transformed here. All participants will receive a one-year Starters Plan (EIM) on enrollment to find their fit and chart their own progression.
eLITE Online is fast track practical integration of members' competencies into the eConsortium @ Qcircle. Here you can systematically value add a new job or business into your portfolio. Participants on completion of the each level of eLite Program (1 to 3) are rewarded with an appropriate Consortium Plan for privileges and reward.
All qualified persons will be granted a complimentary one-year Affiliate Plan on completion of the Start-up module for immediate privileges
INDUCTION TO QCIRCLE ELITE ENVIRONMENT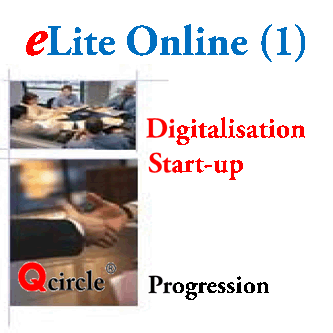 Progression Proposal – The Digital Innovation Start-up Plan
Strategic positioning of core competencies and businesses in new marketplaces.
Guided development of work portfolio for Competency Award.
Eligible for subscription to an appropriate category of Affiliate Financial Plan.
Status : Affiliate @ Qcircle
INTEGRATION TO ECONSORTIUM ECOSYSTEM
Integration Proposal – The Strategic Gateway Plan.
Strategic development for new marketplaces. Integration of members' competencies into the eConsortium for growth.
Guided implementation of Specialty portfolio for Certification Award.
Eligible for subscription to an appropriate category of Associate Plan.
Status : Associate @ Qcircle
TRANSFORMATION WITH DOMAIN BRAND
Brand Affiliation – The Solution Global Plan.
Getting into the critical factors of today's success. Digital affiliation with good domain brand for ready global marketplaces.
Guided development of Digital Brand Project and implementation for a Globalisation Award.
Eligible for subscription to an appropriate category of Corporate Plan.
Status : Corporate Host @ Qcircle
DIGITALISATION GROWTH @ QCIRCLE
Enterprise development – Value Chain Creation.
System integration of participants's competencies and businesses into the eConsortium. Enterprise @ Qcirce with new value chain for digitalisation growth.
Guided development of Enterprise Project File and implementation at the eConsortium
Direct application to Partners Plan . One year complimentary Global Partners Financial Plan
Status : Global Partner @ Qcircle
---
Program Format and Agenda
Program Plan may vary to meet local requirements of participants